Welcome to the Prius Wiki
Edit
A Wiki about Toyota's Prius (all versions).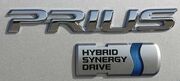 If you own a Prius (all versions), or you are a fan of Prius, you are welcome to make this Wiki grow by editing and adding pages, correcting mistakes and by sharing your experience by adding useful and proven information. Add references whenever possible.
Links to Prius Versions
Edit
The USA EPA requires a door jam label and Toyota has included the model identifier on each one.
Please follow the scheme adopted for the Gen 3 to organise the pages.
Common Prius myths and rebuttals
Edit
Price premium/breakeven/payback
Above myth/rebuttal headings are ideas for pages. Please add/remove or come up with better ones.
Miscellanous
Edit
Prius Wiki is an independent wiki enthusiast site. This wiki is not sponsored by or in any way affiliated with Toyota Motor Corporation (Japan) or any of its worldwide subsidiaries. The Toyota names and logos are trademarks owned by Toyota Motor Corporation (Japan) and its worldwide subsidiaries.
Latest activity
Community content is available under
CC-BY-SA
unless otherwise noted.