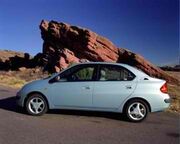 Development of the first Prius is described in "Prius Die de Wereld Deed Schudden" ("The Prius That Shook The World") by Hideshi Itazaki translated by Albert Yamada and Masako Ishikawa. Yoshiro Kimbara, then Executive Vice President in charge of R&D (now Advisor at Aisan Industry Co., Ltd.), concurred with Toyoda's view. Consequently in September 1993, Kimbara founded G21, a project committee to research cars for the 21st century. "G" was for "globe," . . .

Kimbara advocated a small-size car with a large cabin as the most important prerequisite for the 21st century car. Fuel-efficiency would be necessary since traffic congestion would become an inevitable chronic urban condition and fossil fuels would begin to deplete. The first and immediate prerequisite was "a small-size car." Thus began the project that birthed the Prius.
Sold only in Japan, the displays, owner's manual, and maintenance manuals are only written in Japanese. However, gray-market exporters have shipped them to Australia, New Zealand, the UK, and Russia. There is an active YahooGroup, "Mk1_Prius - Mk1 Prius (Japanese export) global owners group." English language owners should join this group for the latest news and recommendations for problem resolution.
From "Development of Electric Motors for the TOYOTA Hybrid Vehicle "PRIUS"", K. Shingo, K Kubo, T. Katsu, and Y. Hata, Toyota Motor Corporation, we learned there are internal oil seals keeping the stators free from the gear lubricant. Also, the 1.5L engine has a higher expansion ratio, 13.5 to 1, versus the NHW11 that has a 13 to 1 ratio. The "D" cell traction battery remains a challenge to keep operational
Community content is available under
CC-BY-SA
unless otherwise noted.